Why You Need Mental Fitness For Holistic Wellbeing
by Naziya Wahid, Psychologist
Imagine a sunny day, birds singing and children playing in a park. You want to sit, enjoy and take this moment in. But you are not able to, and you think to yourself, "I've been taking care of myself, eating well, and exercising, but why don't I feel so good?"
We forget to consider the rising stress at work or the conflict we are dealing with at home.
Health and Wellness are often associated with taking care of our physical body, through training and the gym. While physical health is important, it's just one aspect of Holistic well-being.
Wellbeing can be largely defined as:
Functioning well

Experiencing and positively handling different emotions

Balancing work and fun

Engaging in curiosity to uncover our full potential

Building and maintaining relationships

Taking care of your needs.
According to the World Health Organisation, "Health is a state of complete physical, mental and social well-being and not merely the absence of disease or infirmity." Each aspect of well-being is important to our overall sense of well-being.
Everything else in our life is going great, but we feel lonely. Things are great but we're not eating healthily. If one aspect of well-being is not met, other areas of our life will be affected. This likely leads to not feeling as well as we want to.
Importance of Holistic Wellbeing
With the increase in mortality rate, thanks to the development in medical science, people are also experiencing high levels of stress, anxiety, and fatigue. The fast-paced life forces us to be dependent on less-nutritious and harmful foods. Also, harmful chemicals surround us through the air, water, and personal worship items like daily care products. All of these have a serious impact on your overall health.
Here's your essential checklist for holistic well-being:
Enhancing overall fitness including physical, mental, and social health.

A maintained physical body and a thriving inner self. 

Combining all aspects of health like diet, exercise, sleeping habits, and coping with emotions.

Being consistent in improving the overall well-being and not just parts of it.
Mental health for holistic wellbeing
If we look at the numbers, in any given year, an estimated 18.1% (43.6 million) of U.S. adults ages 18 years or older suffered from any mental illness, and 4.2% (9.8 million) suffered from a seriously debilitating mental illness. WHO estimates that about 7.5 percent of Indians suffer from some mental disorder. According to the numbers, 56 million Indians suffer from depression and another 38 million Indians suffer from anxiety disorders.
Our mental health is influenced by several psychological, social, biological, and environmental factors which interact in complex ways. These include:
Safe living environments, employment, education, freedom from discrimination and violence, and access to economic resources.
A positive sense of belonging, activities to highlight and embrace diversity, Social support, the connection you have with others, participation in society, and the way you interact, connect, and form bonds with others.
The ability to manage thoughts and cope with stressors, and having communication and social skills to support connection with others.
A healthy lifestyle that is not stagnant or harmful.
Mental health is not something new or unknown, we just aren't used to making it a part of our daily life. If we look carefully at different aspects of our life from thinking, making decisions, maintaining relationships, and our attitude towards stressors are determined by our mental health condition.
But it's never too late, a simple lifestyle change can make a huge impact and can significantly affect the quality of our life. This is especially for those who are struggling with mental health issues like depression and anxiety. Other health issues which are common in people with mental health issues like hypertension, diabetes, and heart disease are also minimized.
Reasons behind not paying attention to mental health
Unlike physical health issues which are visible to us, mental health issues like depression are more silent. You may observe different symptoms like fatigue, insomnia, and loss of appetite, but recognizing it and let alone seeking help for it takes a back seat.
Some of the reasons which keep us from recognizing and seeking help include:
Lack of awareness about mental health.

Lack of information regarding simple interventions.

Not understanding the Mind-Body connection.

Stigma plays a huge role in creating discomfort and fear towards talking about mental health and mental health issues.
Mental health is just as important as physical health. How you feel and see the world affects your life, actions, and decisions. It is critical to take steps and make responsible changes for improving mental health that will ensure your wellness and overall health.
Simple ways to take care of your mental health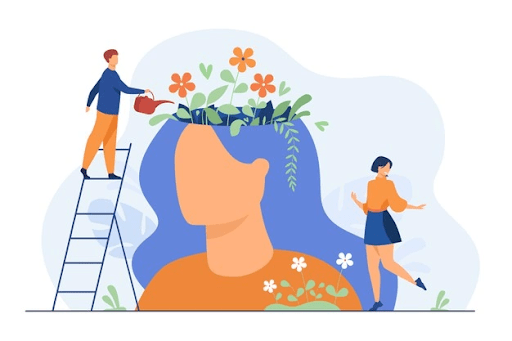 Knowing all this might make you a little overwhelmed, if not for yourself then for your loved ones.
Let's look at some simple ways through which we can take care of our mental health:
Talking about your feelings can help you stay in good mental health and deal with times when you feel troubled. Don't hesitate to permit yourself to be vulnerable.
There's nothing better than catching up with someone face-to-face, but that's not always possible. You can also give them a call, drop them a note, or chat with them online instead. Remember, it works for both parties.
Engage in activities you think you are good at
What do you love doing? What activities can you lose yourself in? What did you love doing in the past? A little moment for you will take you a long way toward a healthy life. Balance work and fun.
Do you know they say self-acceptance is the most important? If it doesn't come from within then the need for validation can make you jump from one difficult relationship to another. To make meaningful relationships, you have to understand your needs. To master that, the first step is to accept yourself the way you are. Take the first step to getting to know yourself more.
Let me break it to you, none of us are superhuman. We all sometimes get tired or overwhelmed by how we feel or when things don't go to plan. If things are getting too much for you and you feel you can't cope, ask for help. Your family or friends may be able to offer practical help or a listening ear. Sometimes that's not enough and seeking professional help becomes important. Remember to be kind enough to yourself when you need it the most.
Health and Wellness need to be associated with taking care of our physical body and our mind together. Holistic Well-being means taking care and nurturing both. Taking the time to address your mental as well as physical needs will reduce stress, anxiety, and fatigue.
Your mental health is equally as important as your physical health for holistic well-being. By taking just a few steps to improve your mental health your overall health and well-being can improve.
References:
Bhatia, A. (2020). World Mental Health Day 2020: In Numbers, The Burden Of Mental Disorders In India. Retrieved 2 December 2021, from https://swachhindia.ndtv.com/world-mental-health-day-2020-in-numbers-the-burden-of-mental-disorders-in-india-51627/
Gee, Z. (2021). Harvard Researchers and Clinicians Battle 'Silent Pandemic' of Mental Health Issues | News | The Harvard Crimson. Retrieved 2 December 2021, from https://www.thecrimson.com/article/2021/5/27/silent-pandemic-mental-health/
Velten, J., Bieda, A., Scholten, S. et al. (2018). Lifestyle choices and mental health: a longitudinal survey with German and Chinese students. BMC Public Health 18, 632. https://doi.org/10.1186/s12889-018-5526-2
Zoppi, L. (2020). Mental health stigma: Definition, examples, effects, and tips. Retrieved 2 December 2021, from https://www.medicalnewstoday.com/articles/mental-health-stigma